June 28, 2022
Winter Warmers Volume 1: Cabernet Sauvignon's Perfect Pair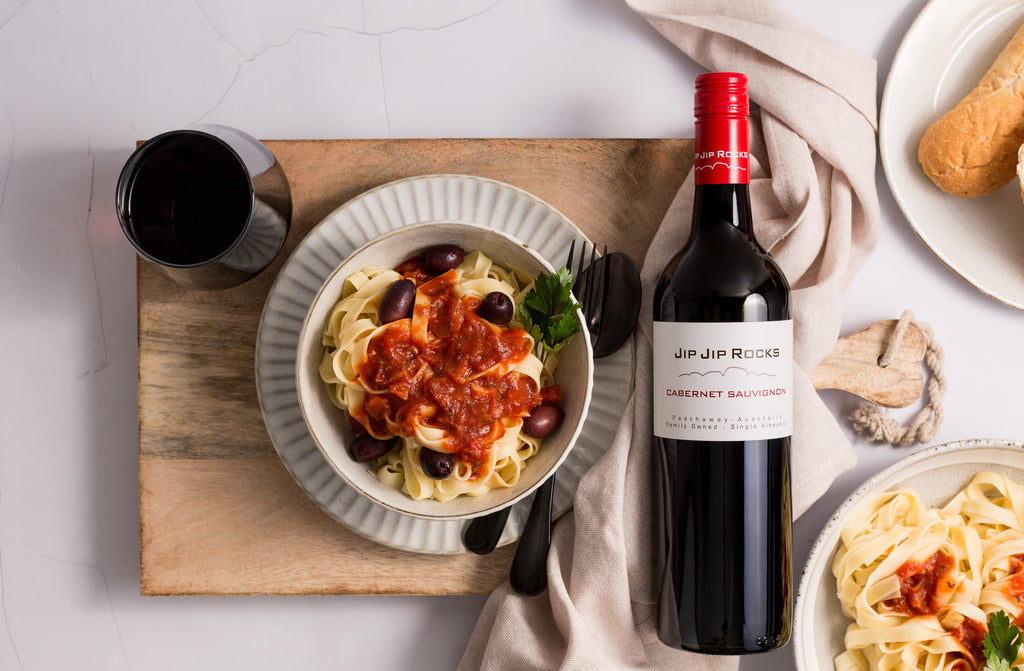 With the weather turning Arctic, it's time to cozy up with a glass of one of our award-winning Reds; Cabernet Sauvignon. And as the saying goes, good wine deserves good food to pair with it! We have scoured the Bryson family cookbook to bring you one of our favourite Winter Warmers and its perfect pair, sure to enhance and elevate your dining experience.
Our 2019 Cabernet Sauvignon boasts boysenberry and mulberry aromas, with a hint of cedar and pepper, making it a favourite to pair with one of our wholesome family favourites; Pasta. Tomato-based pasta dishes contain a certain level of acidity, and if your paired wine does not contain the same level, it can leave the wine tasting lack-lustre. This makes the medium-bodied Cabernet Sauvignon the clear choice on pasta night.
Making the perfect fettuccini as a foundation to this amalgamation of flavours is easy with our homemade pasta recipe. We hope you enjoy it as much as we do.
Method:
Gently combine 3 eggs, a half tablespoon of extra virgin olive oil and a pinch of salt.
Place 2 cups of all-purpose flour on a clean work surface and create a crater in the centre. Pour egg mixture into the crater and slowly begin to integrate the two by bringing the flour inward.
Once the mixture has formed a rough ball, begin kneading until the dough feels cohesive and no longer lumpy. It can typically take between 8 and 10 minutes for the dough to feel smooth.
Divide the dough into quarters, moulding each piece into an oval disk.
Run the piece through a Pasta Roller on the widest setting three times. Place the rolled piece of dough on a flat surface. Fold the end pieces in to the centre, and then in half. The dough is now ready to run through the roller again.
Run the dough through the roller three times on the next largest setting, and three times on the third. You will only need to run the dough through once on each of the final settings.
Gently place your pasta on a tray dusted with flour, and sprinkle extra flour on the top. Repeat steps 5-7 with the remaining sections of dough.
Once all the dough has been rolled into sheets of pasta and lightly dusted with flour, take a knife and slice the sheet length-ways, creating noodles of pasta as thick or thin as you desire.
Cook pasta in a pot of lightly salted boiling for approximately one minute, and top with which ever ingredients you desire.